In Tribute to Rotarian and Community Servant Dale Lewis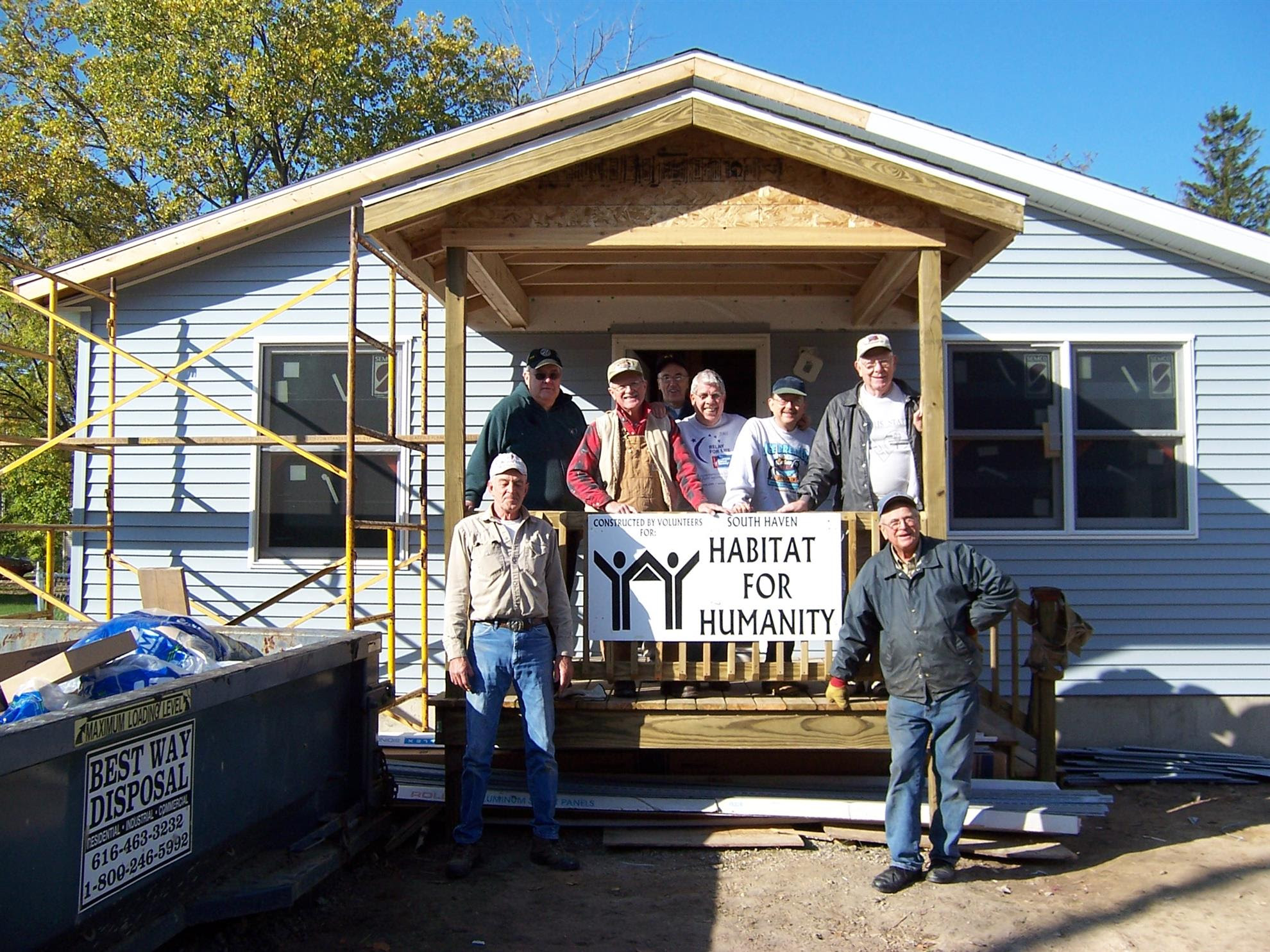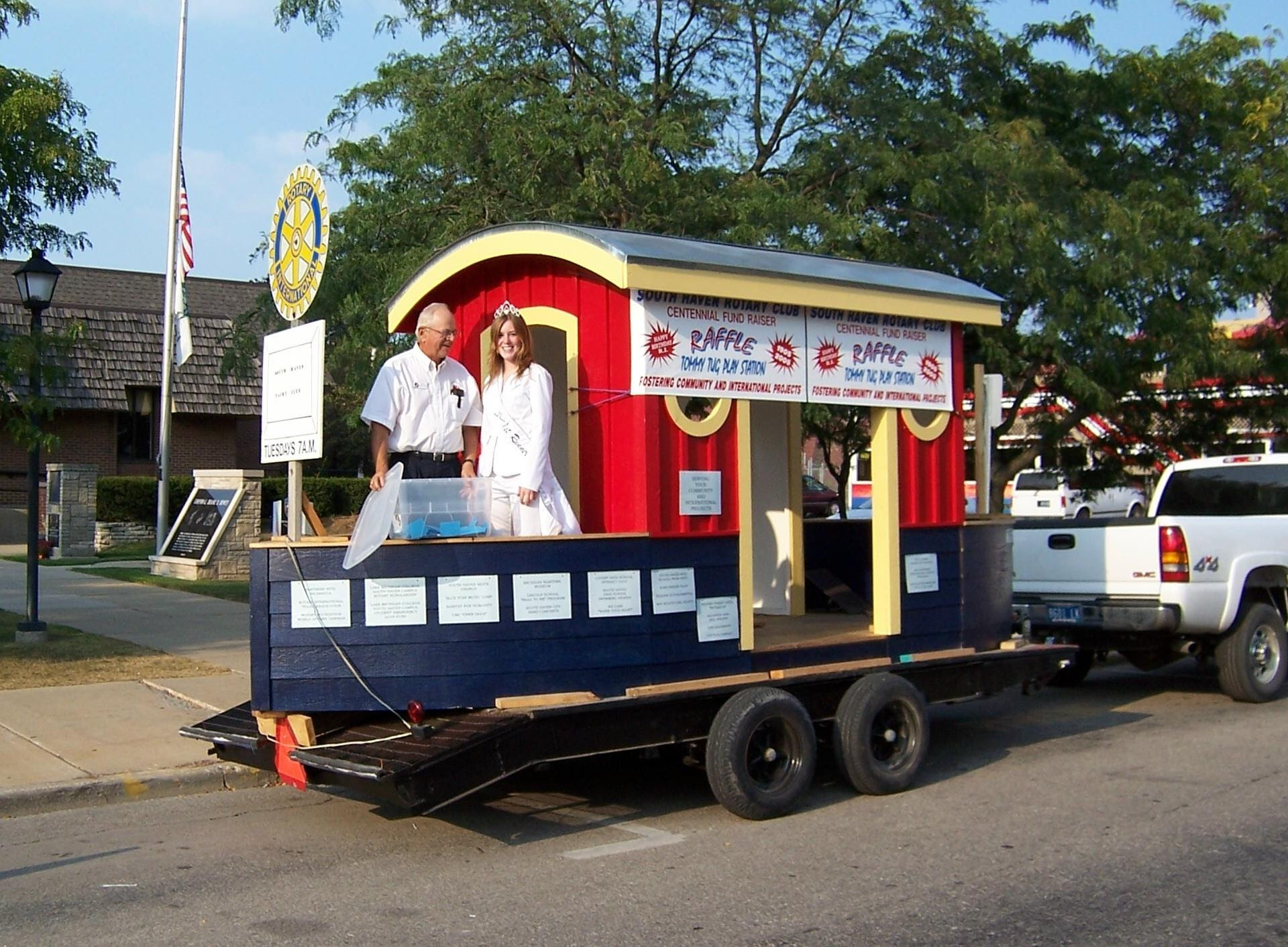 SPOKES VOL. LXVII NO. 9 September 8, 2020
http://www.southhavenrotary.org
President Thompson called the meeting to order at 7:00 AM this morning. This week we had our prayers answered and were able to watch and listen to a stirring rendition of our national anthem sung by the combined glee clubs of all of our service academies. Jeffrey Dick provided our invocation this morning with special prayers for our emergency workers and for the families that lost loved ones in the lake here and other places.
Our guests include potential member Angelica Gallegos, Jeffrey Dick, Jill Brickman, Wally Livovich and our speakers Bob Linderman and Stephanie Bird.
Announcements:
The visitation for our friend and fellow Rotarian Dale Lewis will be held this (Tuesday) evening from 6 – 8 PM and his funeral tomorrow (Wednesday). We will make a donation in Dale's name to Habitat for Humanity.

The District 6360 Raffle will begin this week. "tickets" are $25 each. We have a record of 100% participation in the raffle and we have a history of an outstanding rate of return on our investment, having secures thousands of dollars in grants from the district foundation. You can secure your ticket(s) by sending in your donation to Bob Straits at our post office box (#24).

Bill Roberts let us know that our September programs should be all set and work continues on October presentations. If you need help finding a program, contact Bill Roberts or Dan.

Jeffrey Dick noted that tutors are needed for high school students in grades 6 – 12. Sessions are held at the Congregational church. Any adults willing to help should contact Jeffrey.

The District has reinstituted the matching Paul Harris grant program. If you wish to contribute as a Paul Harris Fellow, District 6360 will pay half ($500) of the contribution for you.

Jerry Gruber announced that the annual Christmas dinner we serve to the community has been canceled this year.

Bob Copping provided us with a glimpse of John Glenn's scariest thoughts from atop his rocket.
50/50 and Fines
Jerry Portman was the big winner today while Mike Livovich was the $2 winner. Stu Comiskey has been assigned the duty of distributing prize money.
Fines were charged to:
Steve Miles is celebrating the birthday of his twins this week.

Bob Brickman celebrates the birthday of his daughter Jill on the 11th.

Mike Livovich and his lovely wife Mary Ann are celebrating their 48th anniversary and it is Mary Ann's birthday this week.

Kaileigh Eddy will celebrate husband Mark's birthday this week, along with the start of high school football season.

Bob Straits and his lovely wife Kathy are celebrating 53 years married tomorrow.

Marty Graber announced the birthday of his oldest son and that they had a nice family gathering on this weekend.

Once again, we serenaded the celebrants by singing a Ludington version of the birthday song, vigorously led by our own Larry Wittkop. Fortunately, Dan kept us all on mute during the song.
Tony Martorano introduced our first speaker, Bob Linderman, volunteer-about-town, to talk about Boy Scouts in South Haven. Bob was followed by Stephanie Bird from the Boy Scouts District office.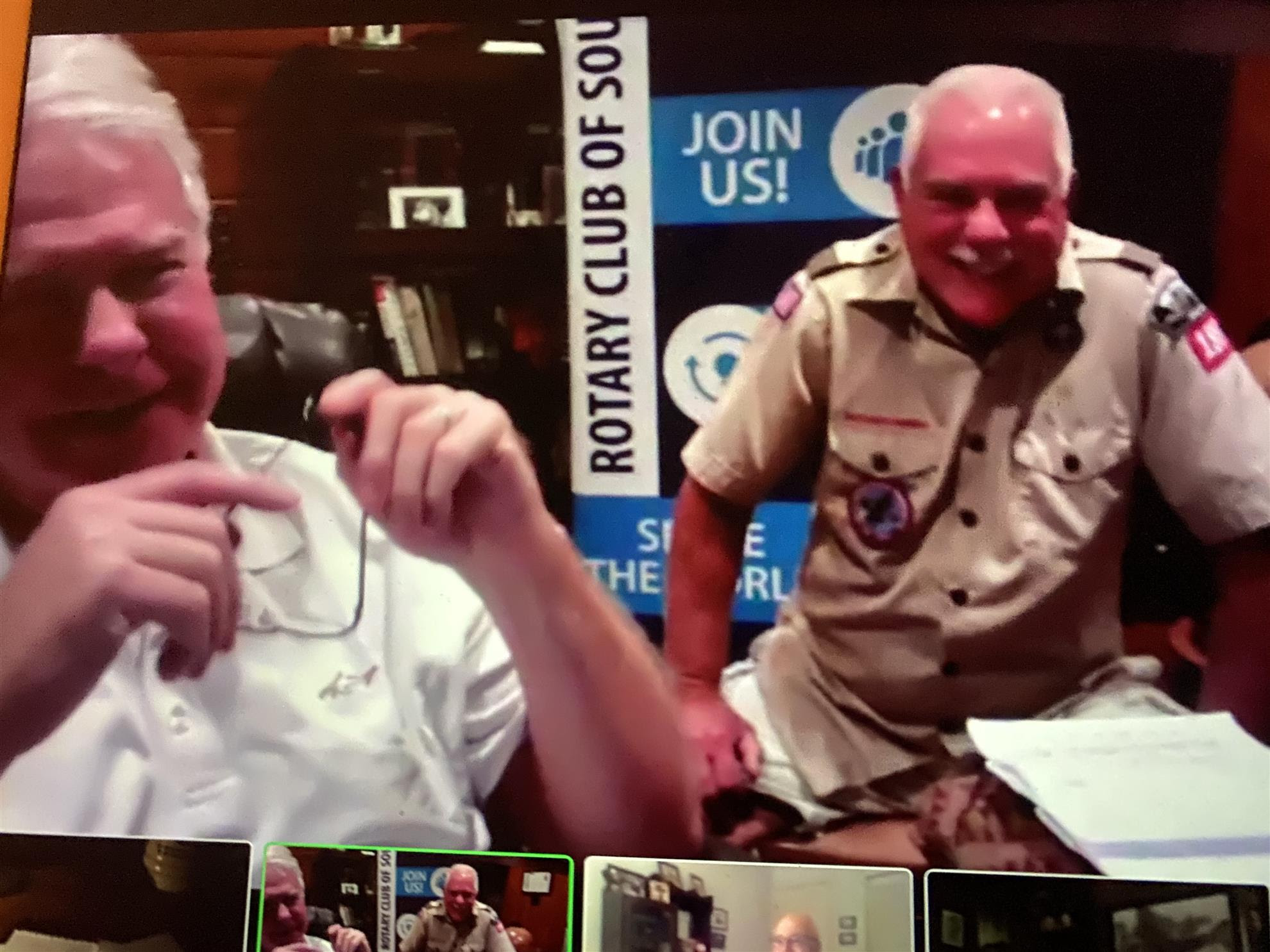 Bob began with a brief history of Boy Scouts in South Haven since about 1970. That was when troop 198 was formed. Shortly after that the paper recycling truck was established as a fund raiser for the troop. Both the troop and the paper truck are celebrating 50 years in operation this year.
The local troop traveled the country pretty extensively for about 15 years, visiting the service academies and many national monuments and parks. They also use Camp Warner extensively for outdoor experiences. Stu Comiskey and Jerry Gruber were big parts of making these trips happen.
Bob then took a few minutes and listed each of the last 10 Eagle Scouts from South Haven and their projects and who the mentors were for each of these projects, a couple whom our club has supported directly.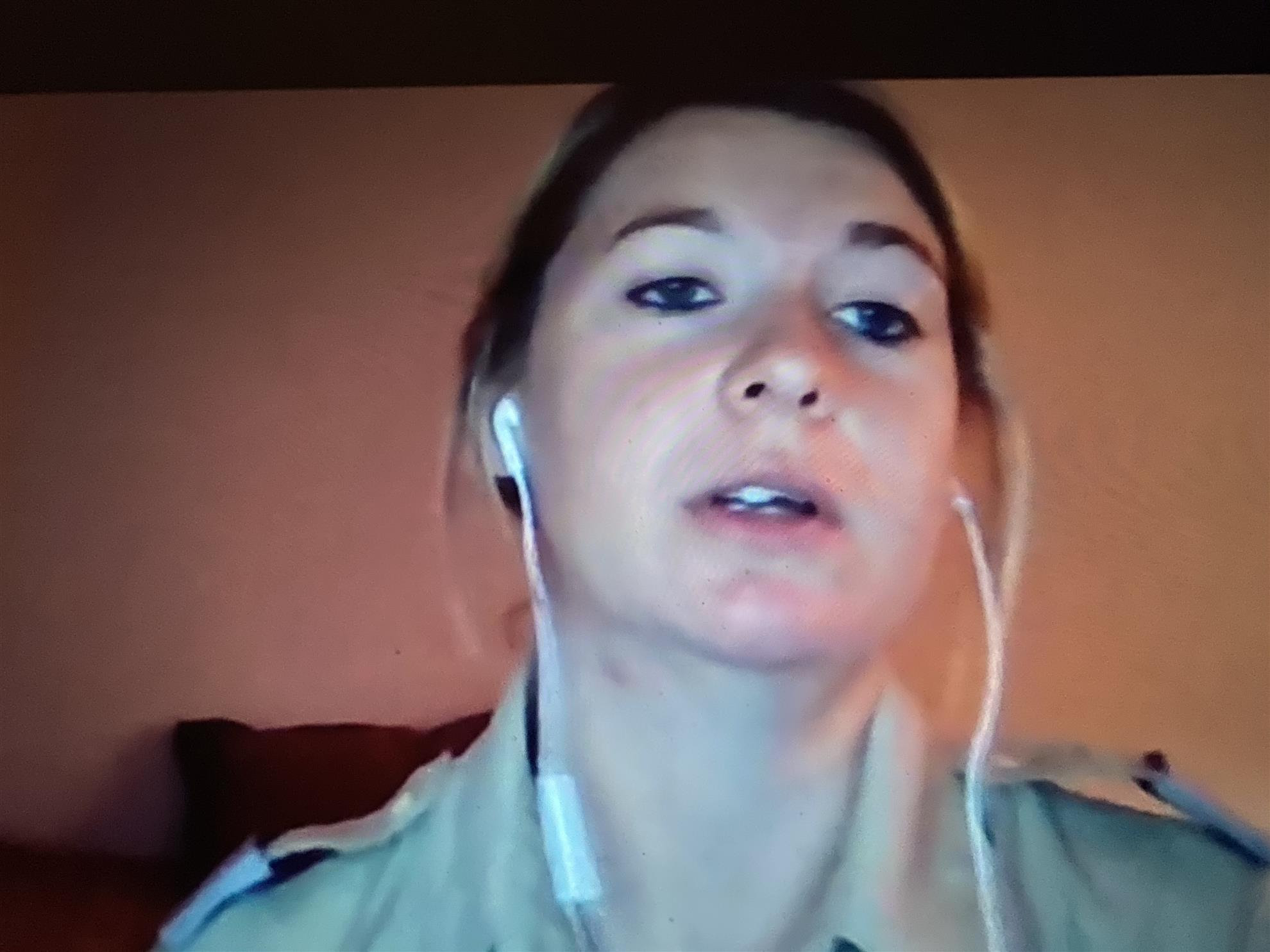 Bob then turned the program over to Stephanie Bird who talked about the work of the District BSA which covers Van Buren and northern Berrien County.
Her first presentation was a video about the safeguards instituted by the Boy Scouts to keep scouts safe. She then talked about the rising costs of being a Boy Scout, now up to $138.00 a year for returning scouts and $163.00 for new scouts. They are working on ways to secure scholarships for memberships and a new "Scout Pay" system that will let members pay by the month.
The dues are used mostly to build programing for the scouts, from providing bow and arrow and rifle training to the opportunity to earn hundreds of merit badges. Training is also provided for adult leaders so they can lead scouting activities.
Stephanie noted that we have about 25 units in the district (Cubs and Scouts) which is down about four units since COVID-19. That amounts to around 350 youths involved in Scouting in our district.
A couple of questions resulted in us discovering that girls a included in Boy Scouts in a number of ways. At the Cub level the units are co-ed while at the scout level girl's troops are generally separate, though some troops are "linked" and begin and end meetings as a co-ed group.
We also learned that Camp Roto-Kiwan, formerly a scout camp, is now owned by the City of Kalamazoo Parks and Rec department. The Scouts will still be able to camp there but some of the more traditional activities scouts do at camp will not be allowed, so other sites will need to be found. The Coloma Rod and Gun Club has picked up much of the bow and arrow and firearms activities.
The District is planning a Camporee this fall, also at the Coloma Rod and Gun Club. Stephanie noted that it will be unlike other Camporees because COVID-19 safety measures will be strictly enforced.
President Thompson thanked Bob and Stephanie for this interesting and informative presentation and presented each with gift certificates to local eateries.
We closed the meeting with the Four Way Test
NEXT WEEK: Tom Noverr will introduce Dr. Edward Montgomery, President of Western Michigan University.
Editarian: Dene Hadden