SOUTH HAVEN ROTARY SPOKES VOL.LXVXV NO.16
October 27, 2020
President Thompson welcomed everyone, and we opened with the
"Pledge of Allegiance", followed by Art Ayers' invocation, which
offered prayers for the family of former South Haven Rotarian
David Grier, who passed away on Thursday, October 22, as well as
for Mike Livovich, as he continues chemotherapy treatments.
GUESTS: Soon to be member Bill Hunter
ANNOUNCEMENTS:
+ President Thompson announced that the funeral service for
David Grier, who served as president in 73-74, and was a Paul
Harris Fellow, would be held this morning at 11 am.

+ Thank you to Rhonda Wendzel, Mike Livovich, Tom Renner, and
President Thompson, who participated in the Tree Planting
Ceremony held on Wednesday, October 21, at Stanley Johnston
Park.

+ President Thompson indicated that there would be a short Board
meeting following today's meeting.

+ Thursday Night Suppers, at the First Congregational Church,
will resume on November 5. Our Rotary Club is responsible for
supplying workers for the dinner on the third Thursday of each
month, which will be November 19. The first Thursday of the
month is "manned" by members of First Congregational, the second
Thursday is reserved for members of Kiwanis, while the fourth
Thursday involves the Boy Scouts. If interested in helping on the 19th , please email President
Thompson. Dinners will be of the take-out variety, whereby food will
be delivered to guests in their cars in the parking lot.

+ A virtual fundraiser, to support We Care's Utility Ministry,
is being planned.

+ Mark Odland noted that a mistake had been made regarding the
reporting of breakfast pricing when we return to face-to-face
meetings. There will be an "Honor Pot"; however, actual pricing
will be $2 for coffee and $1 for a roll.
+ There is no music this morning, since President Thompson
received many emails indicating that last week's John
Denver/Nitty Gritty Dirt Band offering was either "breaking up"
or hard to hear. Dan will continue to "work the problem".
In the interim, we will return to the 5 minute "Member
Spotlight" format, beginning next week.

+ Next week's program will feature Dr. David Myers, of Hope
College, presenting a very timely topic related to over and
under reactions to COVID-19. Since it would be of great interest
to many within our community, we may want to have our spouses
and/or friends join us for the meeting. Our license allows for a
capacity of 100. Stay tuned for further information related to this.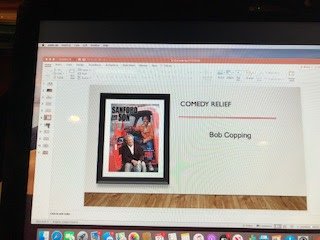 COPPING'S COMEDY RELIEF

+ Today's graphic brought back memories of Sanford and Son,
with Fred (Redd Foxx) and Lamont (Demond Wilson) pictured. It
was based upon the BBC television program Steptoe and Son and
ran from January 1972 to March 1977.
Bob's observation:

"In 2019, the message was 'Stay away from negative people',
while in 2020, we're encouraged to 'Stay away from positive
people'. The more I stay home, the more homeless I feel."
Bob concluded with the following:

"It's easy enough to be pleasant when life hums along like a
song. But the man worthwhile is the man who can smile when
everything goes dead wrong." Irish proverb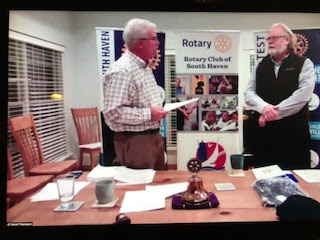 NEW MEMBER INSTALLATION:
Reverend Jeffrey Dick, representing the Ministerial Association of South Haven
Jeffrey was born and raised in Buffalo, New York. He served
congregations in Buffalo and New Hampshire, before coming to the
First Congregational Church in South Haven, where he has served
for 27 years. He has always been very active within the
community, having had leadership roles with the Cub and Boy
Scouts, Kiwanis, and The Samaritan Council, to name just a few.
He and his wife, Lynn, have 6 children, of which 5 are adopted.
They also have 7 grandchildren. Jeffrey enjoys model trains and
his beloved Buffalo Bills.
President Thompson officially welcomed Jeffrey to Rotary
and presented him with a hat, a shirt, a directory, and a badge.

CONGRATULATIONS and WELCOME, Jeff!
HAPPY BUCKS- Tom Ruesink

+ Bob Brickman's wife, Gail, has a birthday this week.

+ Scott Mark's daughter-in-law, Lisa, celebrated a birthday
yesterday.

+ Rosalie's husband, Walt, will celebrate his 64th birthday on
the 30th .

+ Tom Renner gave "shout-outs" to Ross Woodhams and Kaileigh
Eddy: Ross, for the amazing job that he does with the South Haven
High School Purple Pride Band; Kaileigh, for her work with the
cheerleaders. They've been doing push-ups following touchdowns,
and were extremely busy last week, as the Rams scored over 60
points! It is South Haven's first winning football season in 12
years!

+ As Larry Wittkop mentioned, President Thompson indicated there
would be "no music" today - a fitting prelude to our "singing".
Well played, Larry! A "rousing Happy Birthday" rendition
followed; just couldn't tell if it was traditional or Ludington-
style.

DRAWINGS:
Tom Ruesink found "Honest and Reliable" Jeffrey Dick to choose
BOTH numbers today. He first chose number 33 (won by Jim
Bradford); then, number 2 (won by "honest and reliable" Tom
Ruesink. Enjoy your "winnings"!!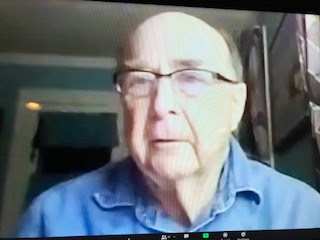 PROGRAM: "The Life of a Conservation Officer"
Rotarian Pete Swanson, Speaker
The first thoughts of employing Conservation Officers in
Michigan began developing in 1877. However, it was not until
1887 that the first salaried state Conservation Officer was
hired. The Department of Conservation was not established until
1921, when they began hiring specialists in fishing, forestry,
and wildlife.

Today, there are over 250 enforcement officers who rely upon the
state police as back-up.

Their primary duty is to enforce the environmental laws in the
state of Michigan. The Conservation Officer also educates the
public about wildlife and wildlife management, conducts wildlife
surveys, captures problem animals, investigates wildlife damage
to crops and property, assists in wildlife relocations, and
helps to develop new regulations.

They work with local police departments, sheriff departments,
the Michigan State Police, the U.S. Coast Guard. U.S. Customs
and Border Protection, the U.S. Forestry Service-Law Enforcement
Division, among others.

Pete said that he first considered becoming a Conservation
Officer in 1970; however, he missed the deadline to apply. As a
result, he was employed as a Social Worker for 6 years, before
beginning his Conservation Officer career in 1977.

His training included 14 weeks in Macomb County and 6 months
traveling around the state.

A common misconception is that people think that the
Conservation Officers have more power than they actually do.
Pete shared several interesting and often harrowing anecdotes
from his career. He then addressed a few questions from our
membership.
President Thompson thanked Pete for his insightful program and
presented him with a gift card from one of South Haven's many
fine restaurants.
NEXT WEEK'S PROGRAM: Dr. David Myers, Hope College
psychologist: Mark Odland & Tom Renner, Program Chairs