SOUTH HAVEN ROATRY SPOKES -- Staying Afloat
We continue to meet via ZOOM for the time being. This morning we had 50 participants in our
meeting. President Odland wished everyone a joyous good morning and offered us a "Smile" via song
to get our meeting stated. We then listened to a silent version of "American the Beautiful" while
looking at the beautiful visages of our membership. Art Ayers turned over the invocation duties to
special guest Jeffrey Dick again this morning and he provided us inspiration for our day.

Our guests included the aforementioned Reverend Dick and our speakers City Manager Brian Dissette,
Chamber of Commerce Director Kathy Wagaman and Visitor's Bureau chief Scott Reinert.
Announcements
 Our next club meeting will be held on Tuesday, May 26th at 7:00 AM via ZOOM. We will
continue to meet weekly via ZOOM until we can meet face to face in a safe
environment.

 Our Citizen(s) of the year have been selected (Joel and Heidi from Taste) and our
Educator of the year is Anna DeVries from Lincoln School.

 Bill Roberts is heading a committee to look at how to hold our induction dinner and
other fund raising events this summer and fall. The 4 th of July pancake breakfast has
been postponed.

 Bill is also looking for a place for us to hold our actual meetings once we are allowed and
feel safe doing that. We have outgrown the Fitness center and need a place that allows
for some social distancing.

 The educational fundraiser has been canceled and the Board has elected to rescind the
$100 mandatory donation for that event. However, we would like to continue to
support the three items this fundraiser is associated with. This includes the LMC
Scholarship fund, the South Haven Public Schools Foundation and our own Rotary
Scholarship. Members are urged to make a donation to our Educational Fund, hopefully
of at least the usual $100. You can do that by sending your contribution to Bob Straits
indicating your donation to that fund or any of the groups supported by it.

 If you get a phone call from someone from Pearl River, New York, it is likely from Dan
Thompson. You can choose to answer it or not.
 In a couple of weeks you will receive a survey about our club. Please take a few minutes
and fill it out when it arrives.

 Has anyone compared our Zoom meetings to the opening of the Muppet show?
50/50. This week Deb Davidson was our 50/50 winner and she generously donated her prize back to the club.

Fines
 Bob Stickland is celebrating his older brother's birthday, his 87 th , this week.
 Ann Gruber is celebrating being married to our friend Jerry for 14 years this week.
 Bob Boerma has a grandson turning 21 this week and it is his daughter and daughter-in-law's
birthday also.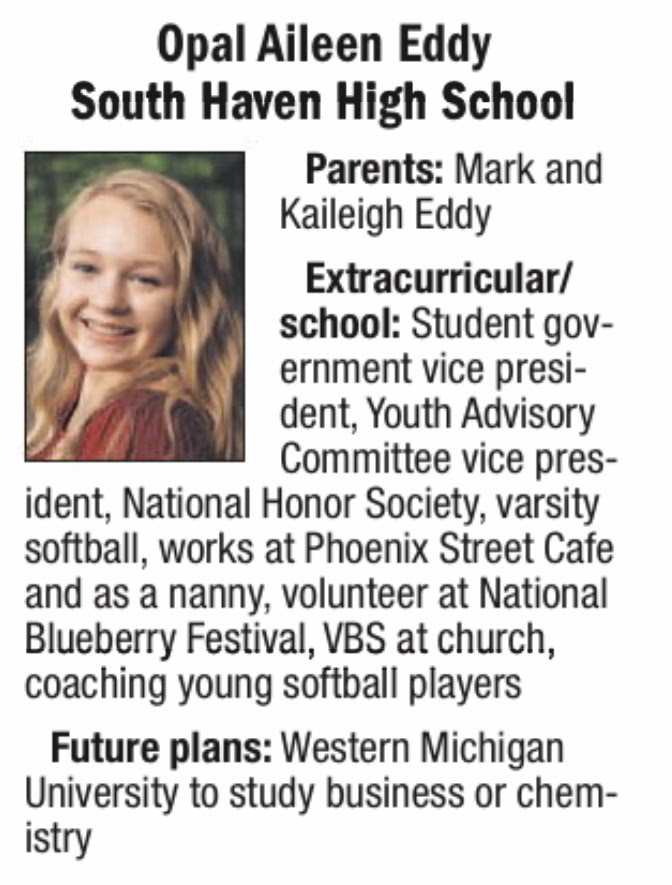  Kaleigh Eddy's daughter Opal was selected as an Academic All Star by the Herald-Palladium this
spring, one of only a few seniors in our area selected for this honor.
 Bob Brickman will get a brand shiny new pacemaker tomorrow. Congratulations and best of
luck. Our prayers are with you for a safe procedure.
 Kevin Schooley is relieved of a financial burden this week and is proud to announce that his son
has graduated from MSU.
 Richard Swanson's daughter and daughter-in-law have birthdays this week.
 Bob Copping's friend, the bell ringer, left us an inspirational story for the week.
President Mark Odland introduced our speakers this morning, Brian Dissette, Kathy Wagaman and
Scott Reinert.


Kathy began the presentation by outlining the things that the Chamber of Commerce has done to help
local businesses during the COVID-19 crisis and as they prepare to open up. She really emphasized the
cooperation between the City, the Visitor's Bureau and the Chamber as we work through this difficult
time.

The Chamber has set up a business resources website to help folks find information that will help them
survive and be prepared for the future. This included information on grants and loans and ideas to
help them maintain their businesses.

They have canceled several of the events that they sponsor but at this time the Blueberry Festival Craft
Fair and the Labor Day Arts and Craft Fair are a "go".


Scott Reinert updated us on hotel and lodging numbers, indicating that they were down 95% over the
last two months and looked down about 70% over the summer right now. However the number of
calls and website hits are back up, indicating that we may see those numbers climb as the summer
approaches and as restrictions are lifted. The key will be that businesses provide a safe environment
for customers and the Bureau has been working with them to make sure what they will be expected to
do as things open up.
It also appears that as people begin to travel, shorter, driveable trips seem to be the most likely for
them to take and that puts us in a great location.

The Bureau has canceled the Haven Harvest Festival for this fall, at least in part due to budget issues,
but sill plan to hold the Christmas Lighting Ceremony and the New Year's Eve celebration, hopefully
including fireworks.


Brian Dissette then took over the speaker's square. He also mentioned the cooperation between
agencies and how that has made getting through this situation and preparing for the future easier.
The City Council authorized a contract for improving the North Side Marina and he hopes that it will be
available for boaters late this summer of fall. A question was asked about boating safety, especially
given stray electrical that leaks into the water from marinas. He indicated that the South Side Marina
has been upgraded to prevent those, as will the North Side Marina when the work is complete. There
are about 1100 boat slips in the harbor, 850 of which are privately owned. The city keeps in constant
communication with those owners to urge them to make sure their slips do not pose a threat to
boaters.

He did say that the city is getting much help from the Army Corp of Engineers, actually more than
anytime for several decades as we deal with high waters. This includes protecting the Water treatment
facilities and the wastewater plant on Dunkley. An engineering firm has been contracted to help
develop a long term plan to solve flooding problems in South Haven.
Here are links to video showing the city's flooding condition:
The Center Street project will be done this Friday and open for traffic and parking after that.
Brian did say that the number of building permits is strong, mostly for remodeling projects. He also
indicated that our speaker last week, Ryan Fitzpatrick, will be presenting the RFQ for the Overton
property affordable housing project to the city at its next meeting.

In terms of COVID-19, the city is providing lots of communication to businesses, especially rentals, on
what is and is not allowed at this point. If necessary, the police department is prepared to help
enforce the state mandated rules. He also indicated that the opening of the Farmer's Market went
well with appropriate distancing and good numbers.


We closed the meeting with the Four-Way Test.

Our next meeting will be a virtual meeting on May 26th . Details will arrive in an email from Dan
Thompson.

May 26th Program
Representative Fred Upton will speak on COVID-19 related issues.
Greeters: Sue Duvall and Tom Fleming
Editarian: Dene Hadden
A PARTING WORD - From Jerry Gruber
Please let the members know I still have my Grandfathers barber shears. Iwill come at no charge. Saw a lot of long hair this morning 🥴