SPOKES VOL. LXVII NO. 4 July 28, 2020
http://www.southhavenrotary.org
We met in person, outside, wearing protective gear, at Lake Arvesta farms this morning. It was a pleasure to see so many of our members "face to face" for a change, even if it was difficult to recognize anyone because of the masks. There were a variety of masks, from straight forward white masks to masks with collegiate insignia and other interesting designs.
President Thompson called the meeting to order at 7:00 this morning, assisted by our host, Brian DeBest, who rang the Lake Arvesta bell.
Announcements:
Jim Davis, our longest serving member, suffered a fall last week and his family would like some help keeping Jim company as he recovers. No health care required, just spending some social time with Jim who has been secluded for several months already.


President Thompson made our in-person presentation to our Rotary Hero, Steve Miles, presenting him with his certificate, pin and copy of the program from the award ceremony, which was held virtually earlier this year.

We are still taking donations to our Educational Fund program.
Our Virtual Fundraiser
President Thompson and Rosalie Plechaty reviewed our virtual fundraiser. It will originate from the Huron Street Pavilion on Sunday, August 9th from 1-2:30 p.m. as part of the Blueberry Festival. Its goal will be to raise $9,000 in 90 minutes. It will be a live event interspersed with recorded segments of talent, Rotary information and requests for donations. It will be produced by Moon Dog Productions with assistance from Steve Miles. Folks who donate will be able to donate on line or via Square and can even get a large package of Jiffy pancake mix and a pint of blueberries from DeGrandchamps.
One of the best ways to help is to encourage all of your Facebook friends to like the South Haven Rotary Facebook page. We need some set up help at 6:00 Saturday evening, 11:00 Sunday and after the show on Sunday.
Rosalie had copies of a flyer for the fundraiser for all who attended and we have attached copies of the flyer to this edition of Spokes for you to print out and distribute/post around town and to your friends/family.
50/50 and Fines
We postponed fine paying and the 50/50 drawing this morning to get to our program.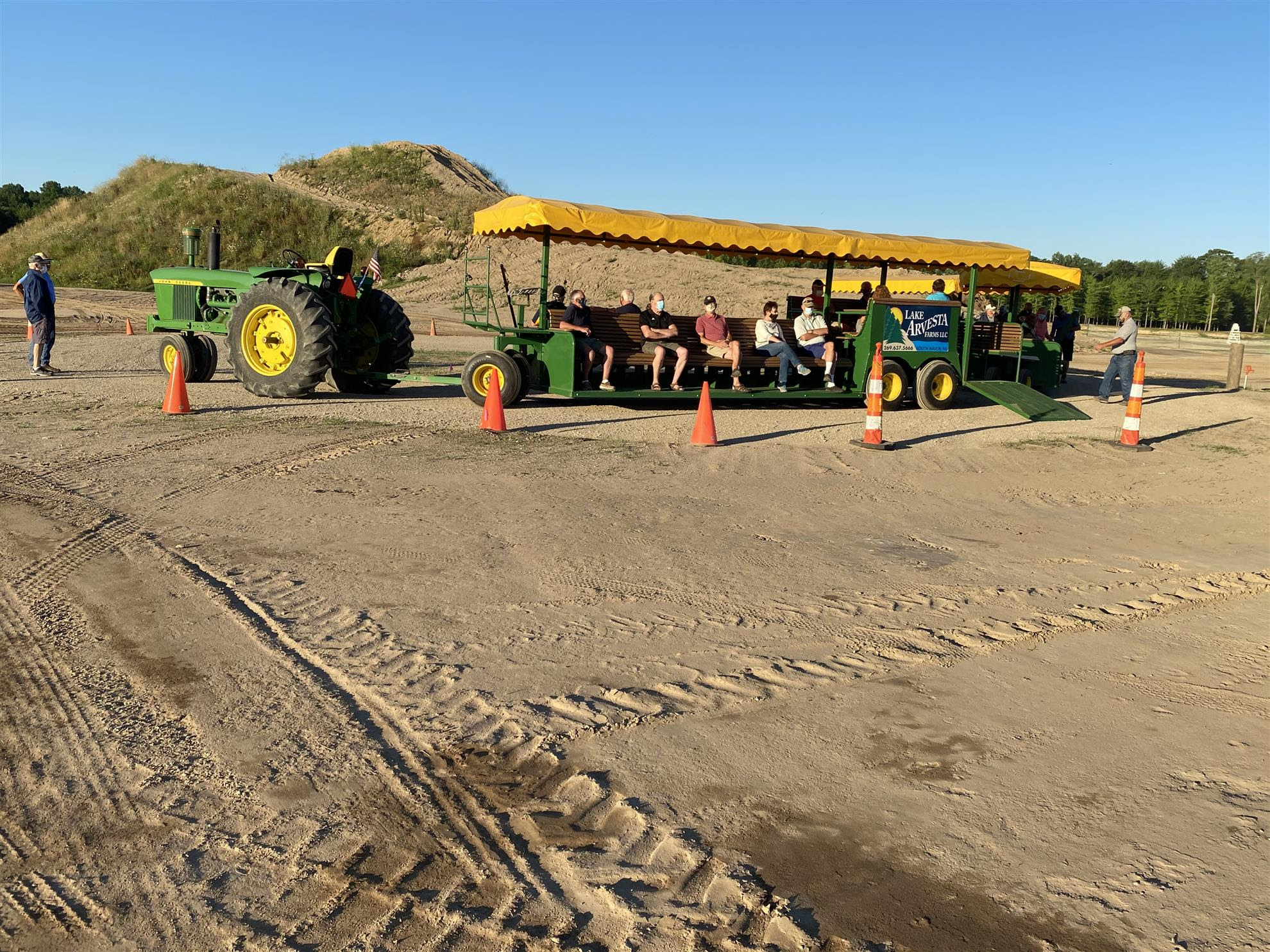 President Thompson thanked John Hamilton for arranging our tour and introduced the owner of Lake Arvesta Farms, Brian DeBest.
Brian began our tour with a brief history of the farm, which is named after the original farm of his grandfather. He needed a source for sand for his landscaping business and purchased the property with that to be the source of the sand he needed. His good friend Brian Bogseth suggested that if he was going to mine sand, he needed a vision for the property after he was done mining. Lake Arvesta Farms became that vision.
Because the water table is high in that area, Brian was able to develop several man-made lakes. The first lake, near the entrance, is used by Motorcraft boats for a training area for new boat owners. The second lake is on "O" shaped lake with a German developed cable pull system that can pull up to ten water skiers around the lake at various speeds, up to 42 miles an hour. The third lake is a training lake for folks who wish to learn water skiing using a cable system. The fourth lake includes two water park attractions, also German made, one for young children and one for older youth and adults. This lake also includes beach areas and areas for beach games including beach volleyball courts.
Brian showed us the restaurant/bar/gathering building, including the three indoor pickle ball courts. This building is the former City of South Haven maintenance building that Brian purchased, took down, rebuilt, resided and remodeled. He introduced Scott Smith who is in charge of the Pickle ball operations at the farm. Scott said that the total of twelve courts (3 inside and 9 outside) are already attracting some of the top Pickle ball players in the country.
We then walked through the very much under construction silos, the larger of which will hold a shop, offices and registration area. The second, small silo will hold restrooms and changing rooms.
We then hopped on a very nice trolley that proceeded to take us around the rest of the park, including a fourth lake on the south end of the property. That currently has a small amphitheater and is where the Merfest was held last year. Brian indicated that they have an arrangement with Disney Studios to rent his mermaid tank and other equipment. In return, the premier showing of their new movie, "Little Mermaid II" will be held at Lake Arvesta on that lake.
We continued around the park, Brian noting the former Canonie tree house, now located on the property with the top floor 30 feet high. He also noted that they have a direct connection with Beeches Golf Course and the Michigan Flywheeler's property which includes more than 300 Campsites.
As we headed back to the main buildings, Brian pointed out the area where they will build a theater to bring in entertainment and concerts. This arena will be designed to attract entertainers who can perform and also have a great place for their families to stay. It will eventually seat more than 7,000 concert goers.
We returned to the main buildings where Dan thanked Brian for the tour and John Hamilton for arranging this opportunity.
President Thompson then presented Brian with one of our speaker gift certificates to enjoy.
President Thompson closed our meeting with the Four Way Test.
NEXT WEEK: We will return to our Zoom meetings next week and our program will be hosted by Bob Brickman.
Editarian: Dene Hadden