Farewell to ZOOM!!!!
SPOKES VOL. LXVIII NO. 3 July 20, 2021
http://www.southhavenrotary.org
NEXT WEEK – LIVE AND IN PERSON!!
After more than a year of virtual meetings, we will return to in-person meetings next week! We will meet a Peace Lutheran Church with the meeting called to order at 7:00. Coffee will be available. For those still uncomfortable, we hope to have a Zoom connection available. Unvaccinated should plan on wearing masks for protection.
President Bill Roberts called our meeting to order with the Pledge of Allegiance. Art Ayers offered our invocation, offering hope for positiveness and prayers for Bob Copping and Mike Livovich.
Our guest this morning included prospective member John Mellein and our speaker Jeff Patton
Announcements:
We will be working with the Kiwanis Club to put on a Pancake Breakfast during Blueberry Festival on August 14 and 15. A sign-up list is available and we are especially looking for help for the afternoon shifts both days. Contact Rosalie Plechaty.

Our August 7th meeting will take place as a tour and picnic at the Portman Preserve near Paw Paw. Tours will begin at 2:00 and a picnic at 4:00. Save the Date! Please RSVP Jerry. Jerry noted that it is a potluck and asked those with last names beginning A – G bring a casserole; those with last names H – M bring a salad or side dish and those in the N – Z group bring a desert.

We hope to have good news in our search for a Public Affairs Coordinator soon.

We will not be meeting on August 3rd or 17th because of the above mentioned activities.
Comedy Relief
We got to watch what appeared to be a very humorous video and those members who can read lips enjoyed it tremendously.
50/50 and Fines
A number of members had pictures in the Herald-Palladium this week and owe fines, payable next week.

Nick Tuit announced his granddaughter has a birthday this week.

Angela Gallegos Brother-in-law was married this weekend.

Melinda Gruber's mom has a birthday and she was pleased to announce that Lory's Place raised $40,000 in 10 minutes at their fund raiser this weekend.

Dave Campbell and his wife Kathy spent the weekend in Houston where they helped stage a proposal and engagement party for their son.

Ross Woodhams admitted to having his picture in the paper this week.

The celebrants were saluted with a birthday song provided by the resourceful Larry Wittkop. Efforts to identify the entertainer were not successful.
John Mellein drew two numbers for our last virtual 50/50 drawing. Next week real money will be up for grabs.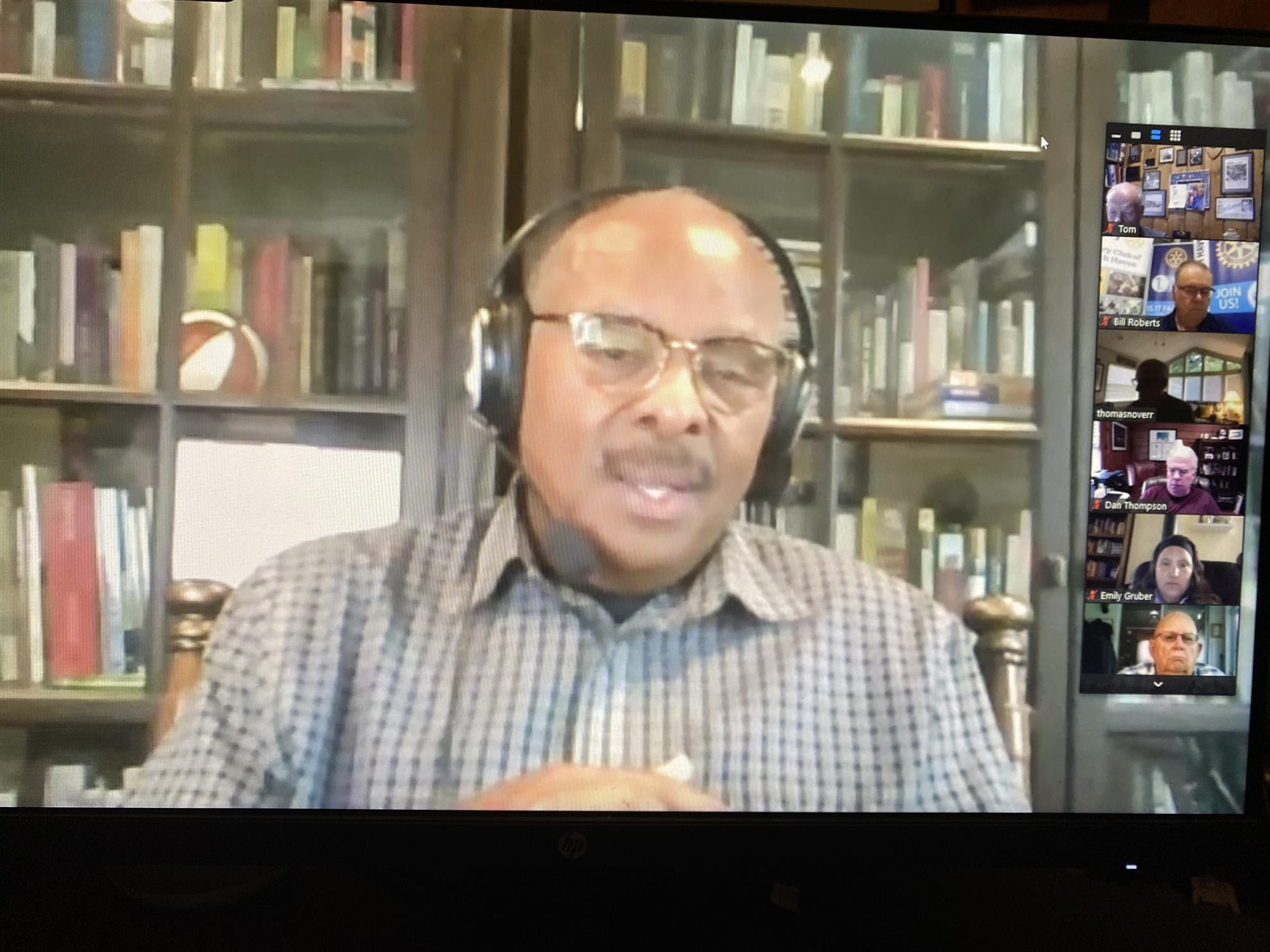 Our speaker this morning was introduced by Tom Noverr. Jeff Patton is the Director of Integrated Services of Kalamazoo which coordinates mental health and substance abuse services in Kalamazoo County. Jeff has a PowerPoint version of his presentation which he will send to Tom if anyone is interested in seeing his whole presentation.
Jeff spoke on the affect COVID-19 has had on the services they provide. He said that they spent a good deal of time figuring out just what those affects were and how to solve them and then to determine what was going to be needed as the pandemic eased to provide help for an entirely different kind of situation.
During the crisis the biggest problem was figuring out how to provide services to those needing help, especially those needing drug and alcohol abuse services when typical in-person services like 12 step programs and residential treatment were limited. They expected and saw a relatively high level of relapse. He knows those people paid a high price during the shutdown.
He also noted that that anxiety increased during this past year and upped the number of people needing mental health services. That, along with the uncertainty of funding and the lack of space made it difficult to provide services.
He did say that they learned a lot during the pandemic, particularly the use of telemedicine. Not only were they able to see regular clients who were able to get services at home, but discovered they could actually provide services to people they difficulty reaching during regular times, especially those in jail and in homeless shelters. They will continue to use telemedicine to reach those clients.
As the crisis eased, the entered a phase they called "Refocus, Reconnect and Recovery"
The first part of the program was to make sure the "Heros" of the pandemic had the emotional and mental health support they needed. The initial part of that program was a "Hero Hotline" that was set up for them to call.
Work on the Refocus, Reconnect and Recovery phase will continue for months.
Jeff answered questions from members. One concerned what regular citizens could do when they encountered a mental health crisis. Jeff indicated that Van Buren County has a mental health crisis line connected to Van Buren County's Mental Health Department available to anyone who needs it 24/7.
He also spoke to the problem of youth, especially those in foster care, who need mental health services. He indicated that there are simply not enough places available to house these youths and provide them appropriate treatment.
President Roberts thanked Jeff for his important and interesting update and is mailing him our speaker's gift of a gift certificate to a local eatery.
Bill adjourned the meeting with the Four Way Test at 8:00 AM
We'll miss you ZOOM! No!!!!!!!!!!!!!!!!!!
NEXT WEEK: LIVE, in-person meeting at Peace Lutheran Church, 7 a.m.

Editarian: Dene Hadden