SPOKES VOL.LXXIII NO.29 February 9, 2021
President Thompson welcomed everyone, and we opened with the
"Pledge of Allegiance", followed by Art Ayers' invocation. Of
special mention, were prayers of love, comfort, and peace,
offered for Ann and Jerry Gruber, as they navigate the last
stages of Ann's life, and for Mike and Mary Ann Livovich, as
they continue to deal with Mike's cancer, as well as his loss of
vision, due to an eye stroke.
GUESTS: Jake Crow and Kevin Snyder, co-coaches of the South
Haven Esports team.
ANNOUNCEMENTS:
+ President Thompson reminded our Board members that there will
be a meeting today following our regular meeting.

+ Dr. H. Clifford Lane, of the National Institutes of Health,
in Washington, D.C., will be appearing as part of the South
Haven Speakers Series, on Thursday February 18th at 2 p.m. via Zoom.
The program will be rebroadcast at 7 p.m. In February 2020, Dr.
Lane traveled to China and, as a result, got a firsthand look at
the beginnings of the virus. It should be extremely informative
and will be offered free of charge. The South Haven Rotary Club
will be sponsoring the event, along with Kiwanis, Lakeland-
Spectrum Hospital, and The Mendel Center. You'll receive an
email confirmation when you sign-up online.

+ The next Rotary-sponsored Thursday Night Supper will be
February 18th . Thanks to all those who have volunteered. We are
fully staffed.

+ Rosalie Plechaty is coordinating a bake sale to benefit We Care, Inc. On February 13th. BAKERS ARE NEEDED! All homemade items will need to be wrapped and ready to sell (for donations). Make certain that you follow COVID-19 protocols. Please drop off at The Living Room, 520 Phoenix St., from 10 a.m.-12 p.m. on February 13th. The sale is scheduled to start at 12pm and will continue until 2 p.m.

+ Award season is fast approaching. One of our awards to be presented is the Educator of the Year Award, whereby the Rotary Club of South Haven, in collaboration with the South Haven Public Schools Educational Foundation, and the South Haven
campus of Lake Michigan College, annually recognizes a teacher or educator in our community who best exemplifies the attributes of quality teaching and is also an outstanding volunteer in the South Haven community. Be thinking about those who would fit that criteria.

+ A note was received from Kim Cross, Principal of Maple Grove Elementary School, thanking us for our donation to their library renovation project.

+ In an effort to provide Ann and Jerry Gruber with dinners each day, a Meal Train schedule was distributed via email, by Melinda Gruber, to our membership.

+ A reminder to Program Chairs: Be sure to share our Zoom meeting link with your guests/speakers.
COPPING'S COMEDY RELIEF
Today's photo, introducing us to Bob Copping's comedy segment,
was of Bill Murray, who was born on September 21, 1950, in
Evanston, Illinois.

Murray is an actor, comedian, and writer. Known for his deadpan
delivery, he first rose to fame on Saturday Night Live, with a
series of performances which led to his first Emmy Award.
He later starred in comedy films, including Meatballs (1979),
Caddyshack (1980), Stripes (1981), Tootsie (1982), Ghostbusters
(1984), Ghostbusters II (1989), What About Bob? (1991),
Groundhog Day (1993), and Kingpin (1996).

Bob's presentation today was all about Gumperson's Law, which
accounts for the fact that you can throw a burned match out of a
car window and start a forest fire, while you can use two boxes
of matches and a whole edition of the Sunday paper without being
able to start a fire under the dry logs in your fireplace.
The law stated simply: "The contradictory of a welcome
probability will assert itself whenever such an event is likely
to be most frustrating".

Dr. R.F. Gumperson, internationally famous physicist, began
serious work in 1938 on a phenomenon long known to scientists,
but up until then considered as a mere curiosity.

Dr. Gumperson served as a consultant to the armed services
during World War II and developed the thought whereby the more a
recruit knew about a given subject, the better chance he had of
receiving an assignment elsewhere.
HAPPY BUCKS- Tom Ruesink
+ Dene Hadden reported that his granddaughter celebrated her 17 th
birthday on Saturday. He also mentioned that his wife, Linda, will be celebrating a
birthday later this month.

+ Larry Wittkop's daughter, Amy, had a birthday yesterday.

+ Tom Ruesink wanted to make sure that all of us knew that
Jeffrey Dick's picture was in the "local fish wrap", and that
Stuart would be soon collecting his fine. Jeff's picture, along with Peace Lutheran's Travis Wilson, was to publicize the drive-thru Ash Wednesday opportunity to be held
from 7:30-10:30 a.m. at the First Congregational Church on February
17th .

+ Larry Wittkop led us in a "rousing" Happy Birthday "to YOU"!

DRAWINGS:
+Tom selected one of our guests, Jake Crow, to select the first
number (#25), which belonged to Bob Straits. Jake then chose
#18, which made a winner of Mary Sue Lyon. Enjoy your "winnings"!! Apparently, Stuart is back on the job, so if our winners don't receive their cash, please contact
Stuart. Get ready, Stu!

SPOTLIGHT: Dene Hadden
The second of five boys, Dene was born and raised in Otsego and
graduated from Otsego High School, where he met his wife, Linda.
He and Linda both attended Western Michigan University, and they
were married on June 6, 1971. This year, they will celebrate 50
years together!

Dene began his teaching career in a district just outside of
LaGrange, Indiana. He remained there for 2-½ years, before being
hired in South Haven in February of 1972.

He and Linda have 3 children and are proud to have raised them
in South Haven. They now have 7 grandchildren.

Dene taught middle school English and social studies until 1986,
high school social studies from 1986-1988. He coached a little
basketball, JV baseball, and started the volleyball program at
SHHS in 1976. He has remained active within the volleyball
program, in one way or another, for 45 years!
He became the assistant high school principal in 1988 and the
athletic director in 1992. While he was the athletic director,
Dene and a few others spearheaded major renovations to Ratcliffe
Field.

He served as high school principal from 1999-2007; during his
tenure, the MEAP and ACT scores were raised significantly.
Dene became a Rotarian in 2006; his sponsor was Dale Lewis.
PROGRAM: South Haven High School Esports (sport through video
games)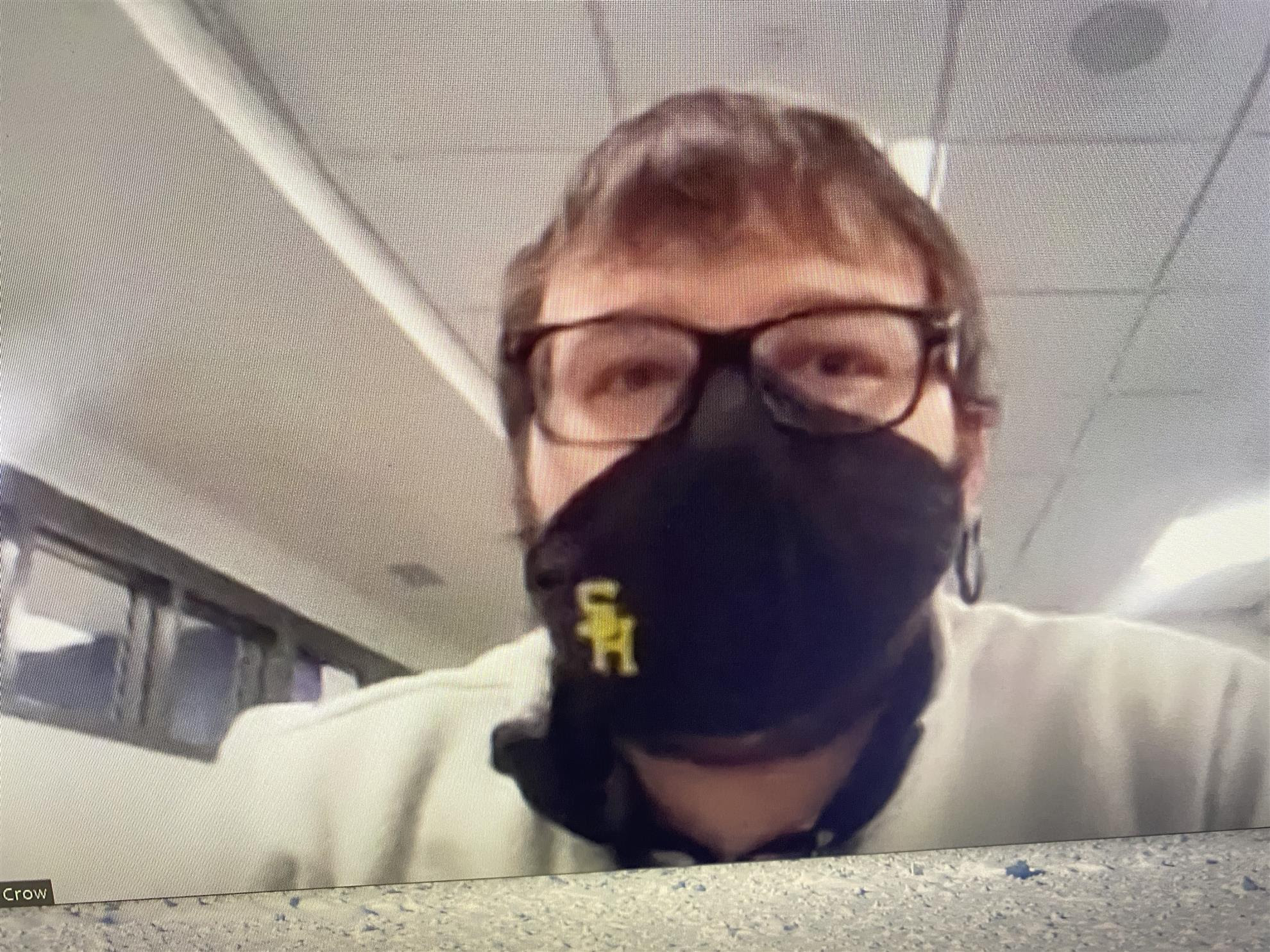 Program Chair- Steve Miles
Our guests, Jake Crow and Kevin Snyder, the SHHS Esports
coaches, introduced us to the concept of Esports, which takes
gaming to another level with organized competitive game play
between 2 teams, governed by its own set of rules and
guidelines.

This year, 17 states and the District of Columbia are offering
formal esports teams, where students perfect their skills
alongside teammates with the assistance of coaches.
They run drills, develop strategy, review game footage, and
would normally compete against other teams across the state.
One of the best things about the program is how it blends so
many students together-students who might otherwise not be
involved in extra-curricular activities. ANYONE can participate,
regardless of physical prowess.

More than 60 colleges and universities now offer esports
programs, with many more on the horizon. Many of these colleges
also are offering scholarships to high school students. Esports,
at the high school level, can motivate previously uninterested
students to continue on to higher education. Western Michigan University is one of many colleges/universities to have built an esports arena.

Last year, at South Haven High School, there were 5-8 students
playing 1 game. This year, much expansion was to take place;
however, the pandemic had a lot to "say" about that. As a
result, the coaches are focusing on next year (more games, more
students, more machines). There is also a growing presence at
the middle school.

The esports program in South Haven has received support from the
school district, having received enough funding to run the
program for 5 years.

The team is part of a "conference" with 25 other schools-The
Southwest Michigan Esports Championship Series.
Jake and Kevin indicated that they would make links available to
us, so we could watch some games, and truly get a "feel" for
what they do.
On behalf of our club, President Thompson thanked Jake and Kevin
for their informative presentation and will forward a gift card
to them, via Steve Miles, from one of South Haven's many fine
restaurants.

A reminder that our club Social Hour is held on Thursdays at
10am. Mark Odland will be sending the link to the meeting for
those who can attend.

Next Week's Program: Heather Chalupa, former Educator of the
Year, from Maple Grove Elementary, will speak on "Enhanced
Learning", while focusing on their library renovation project.
Program Chair: Art Ayers
We adjourned with the Four-Way Test.
Respectfully submitted,
Art Ayers, Seasonal Editarian