SPOKES VOL. LXVI NO. 39
In a history making moment, our first ever on-line meeting, held on the Zoom platform, was called to order by President Odland at 7:00 this morning with 37 of our members logging in. We began with the Pledge of Allegiance followed by Art Ayers invocation asking for prayers and guidance and help for all
of us in this time of crisis.

A special thanks to Art Ayers for writing Spokes for the last three months and to Tom Renner for
distributing it.

GREETING
Mark took a few minutes to review what has happened since our last meeting on March 10th , including the cancellation of several meetings and plans to now conduct bi-weekly meetings on line. Dan Thompson has been charged with determining the best platform for us to use to conduct these meetings.

ANNOUNCEMENTS
* Dan Thompson reviewed his plans to research the best platform for our virtual
meetings.
* Dan also informed the group that we have applied for a District Special grant to be donated to the We Care Utilities ministry, the ministry that will most like be the most
used ministry over the next few months.

* The Educational Fundraising event, scheduled for April 25 th , has been postponed and the committee is looking at an alternative solution.

* Our Induction Dinner is still on.

* The 4 th of July Parade and our Pancake Breakfast are still on as scheduled.

* Until we can meet in person, we will hold virtual meetings every two weeks with the next meeting on April 28th .

* Citizen of the Year and Rotarian of the Year nominations are still being accepted. Forms are on the website. Our Educator-Service Award winner has been selected and will be
announced soon.

* Dan also reminded us that this is an important time to support our local businesses, perhaps by buying and donating gift cards or finding other ways to keep them going in this tough time.

* Tom Ruesink was pleased to let us know that Tom Fleming is recovering nicely from his heart surgery and is back in South Haven.
TIME OUT
Out meeting timed out at this point but we all managed to sign back in and we were able to continue.

SONGS
This morning we were treated to a video of our own Larry Wittkop leading us in the old favorite "Stoodala Pumpa". We believe that it sounded much better in person.
50/50
Art Bolt was the holder of the 50/50 winning ticket this morning but was unable to draw either the 4 or the 2 so the pot continues to grow.

FINES
* Nick Tuit and his wife both celebrate birthdays in early April.
* Jim Bradford celebrated the birthday of a granddaughter.
* Korky Ingersol celebrates the birthdays of his daughter and son this month.
* Richard Swanson's brother has a birthday this month.
* Jerry Gruber's granddaughter has a birthday soon.
* Steve Miles' brother John and sister Anne are celebrating birthdays.
* Tom Noverr celebrates his own and his granddaughter's birthday.
* Art Ayers' sister Carol has a birthday soon.
* Larry Wittkop, an April fool's baby, attempted to get around paying for his birthday but admitted it needed to be celebrated.
* Deb Davidson forgot her birthday and was fined double, which she gladly paid.
* Rosalie Plechaty also disappeared when it came time to pay her birthday fine and will be hit with a double payment next time we meet.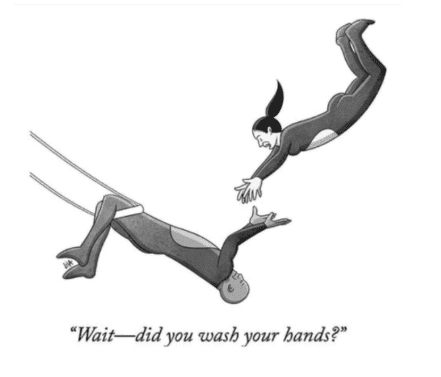 Our Sergeant-at-Arms proceeded by going from square to square on the screen to collect fines, asking each member to say a few words.
* Tom Noverr is glad to be back to our meetings, regardless how we have to do it.
* Bob Brickman, who expects to remain in Florida for a while yet, said the weather is hot, but
humid.
* Jim Bradford, from his basement, is glad to be home.
* Mark Odland told us about the unique Rotary facemask that LaRae made for him.
* Steve Miles was at work getting ready for the on-line learning the school district is starting.
* Art Bolt, still in 90 degree Florida, noted that he missed Easter in Church for the first time ever, but did celebrate on-line.
* Rhonda had to forgo her vacation with her granddaughter and is now at work.
* Sue Duval, who normally works at home, is working from home.
* Jeremy Burleson reports that the move to on-line learning at LMC is going quite well.
* Dan Thompson was able to connect with his whole family across five time zones yesterday.
* Richard Swanson was able to play Bingo on-line with his family this past week.
* Don Dobbins is excited to learn all of this new technology, but also noted with sadness that his
brother-in-law is in the hospital with COVID-19. Our prayers are with him and his family.
* Mike Livovich is on leave from Menard's and is doing a lot of reading.
* Larry Wittkop is not planning on going sailing but does have toilet paper.
* Jerry Gruber has his garden started in their sun room.
* Ross Woodhams is working on figuring out the government regulations so he can get back to providing folks with new automobiles.
* Bob Straits is back to collect dues and may return to Florida for better weather after the current
storm down there blows through.
* Kaleigh Eddy is working from home helping people figure out how to get through this difficult
time.
* Scott Mark is walking and watching movies.
* Bill Roberts has a whole series of home improvement projects lined up, which is where they are
going to stay.
* Mary Sue Lyon is enjoying Zumba on-line.
* Don Hodgman says that every closet and drawer in their house has been cleaned. He also
noted that his annual fishing trip to Canada will likely not occur for the first time in 48 years.
* Bob Stickland sent out a heartfelt thank you to all of the Rotarians who sent best wishes to him
during his recent recovery.
At this point we ran out of time for the fine process. Those who did not get a chance to speak will be fined anyway.
PROGRAM
President Odland introduced Jim Bradford and later Nick Tuit who revealed their trials and tribulations in getting home last month.
Jim began with his trip to and from South Africa. Their trip began successfully and because the South African government did lots of testing early, felt pretty comfortable during the first few days of the trip. They then began a safari that took them deep into the middle of nowhere. During this trip things
got much worse and finally on March 16 th , alcohol sales were suspended so they began making plans to leave. They called to make reservations on March 19 th and the first flight they could get was March 26th at 11:56 PM. South Africa's president put travel restrictions that would take effect at midnight on the
26th . After failing to find an earlier flight, Nick and his family arrived at the airport on the 26 th to find that their flight was moved up and hour to make sure they got out in time. The made it out and to Amsterdam and Chicago with no problems and are glad to be back.
The Tuits arrived in Europe in late February, expecting to spend 30 days in Spain and 20 days in the Netherlands. In Spain things began to get worse and when a local hospital was closed, they decided it was time to get out. Nick gave much credit to the folks at Delta Airlines for taking good care of them, especially when they learned that their flight from Amsterdam to Detroit was canceled. They arrived in Amsterdam to a practically deserted terminal and the same was true in Detroit.
Another of our members (almost) Mary Sue Lyon, also had a harrowing adventure getting back home and will relate that story at our next meeting.

President Odland did not offer either of our speakers a speaker's gift, nor make any mention that one might be coming.
We closed the meeting with the Four Way Test.
Our next meeting will be a 7 a.m. virtual meeting on April 28th . Details will arrive in an email from Dan Thompson.
Program: Kevin Schooley, Superintendent, South Haven Public Schools
Spotlight: Mary Sue Lyon, Return to America
Greeters: First two members on get to be the greeters!
Editarian: Dene Hadden